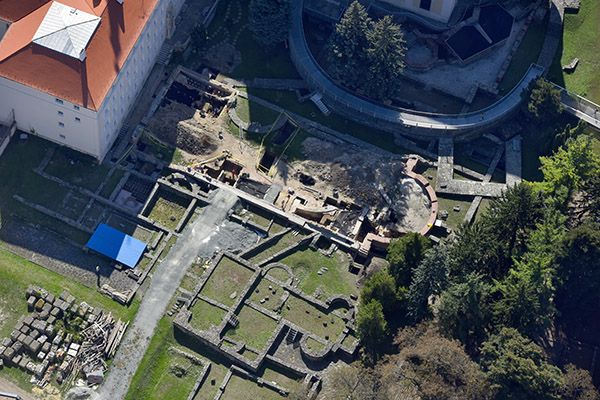 Ruin Garden is the entrance to the city centre and the "gate" of the urban tourism
Creating functional space

from a currently undeveloped site.

Increasing the number of local and tourist visitors.
Providing an opportunity for a comprehensive presentation of the city's historical heritage.
Providing a link in the heart of the city centre between the main square and the current bus station.
It can be an important link between archaeological research and reconstruction in Szombathely, contributing to an attractive urban image.
The Ruin Garden can be given a greater role in the Savaria Historical Carnival in Szombathely, further enhancing the tourism value of the site and the carnival.
Indirectly increasing the value of the surrounding areas.
Further increasing the green space in the city centre that can be visited and used.
In its current state, the Ruin Garden is a fenced, contiguous area in the heart of the city with a Passage (The Passage was built in 2017). The Passage allows visitors to view the Ruin Garden but does not give a full insight into the archaeological remains of the area.
Regarding the state of research in the area, although archaeological work has been going on for several decades, and archaeological observation, professional supervision, data collection and field visits have been carried out alongside excavations, the Ruin Garden is still not fully mapped. The monuments already excavated and not covered can only be visited by guided tours. However, it should be stressed that efforts should be made to protect and preserve all the remains of the buildings.
The Ruin Garden is currently an unused/untapped cultural, archaeological and tourist facility in the city centre. The area is able to showcase several historical periods simultaneously, offering an unparalleled opportunity to trace the development of the city through the ages.
Absolute priority will be given to the restoration, conservation, in situ reinstallation and display of the "Aula Palatina" and its floor mosaic. This action would constitute the main historical, cultural and tourist asset of the Ruin Garden. The infrastructure of the park and the design of the museum section should aim to showcase these elements.
More planned improvements are explained in the action plan.
Further planned developments and interesting information are described in the ARCHEO PLAN.
Szombathely, István Járdányi Paulovics Ruin Garden
---
More Archeoplan

Chisinau - Constantin and Elena Church
READ MORE >

Cherven - Medieval town of Cherven
READ MORE >